I left my home in Syria with a big dream, and I couldn't go back. What I brought with me, family sweet memories, Turkish coffee, jasmine scent, and Fayrouz songs
In the street where I used to live, there was a clay furnace used by the neighbourhood's residents. When my mother used to bake pies, she made sure that some of the pies are offered to people who passed by and the neighbours, in case someone smelled the pies and craved them. That smell is still in my nose now. And now I have started a new life in the Netherlands.
I am so happy that I made the decision to come to the Netherlands. In four years I achieved a lot. I learned cycling, swimming and a new language. I recently wrote a book in Dutch called "The Golden Scars of My Heart". My book talks about the challenges I have faced in three different countries. Especially as a mother of teenage twins, I have to work hard to consolidate our culture, adopt the new culture, and create a balance between the two cultures.
I started my own business from home: "Tasar Pies." The pies are made of a mixture of five types of flour besides some Syrian ingredients such as thyme and muhammara. Muhammara is a paste made of red pepper powder that is added to cooked onions, sesame and fennel.
The ingredients are high in protein and fibre, low in carbs and sugar-free. The idea of my pie is to bring two cultures together into a healthy pie. Traditional Dutch pancake made with traditional Syrian toppings.
I do the shopping and buy all the ingredients from a Syrian shop, I feel really happy when I read the phrase "Made in Syria" on some products like thyme. The smell of my pies takes me back in time and place to my mother in Syria, when it is the summertime and specifically the moment just before sunset and the weather is no longer so hot, my mother used to put her hand inside the clay furnace where a lot of coals are at the bottom. She puts a new pie in the clay furnace and takes the baked pie quickly so that her hand does not get burned.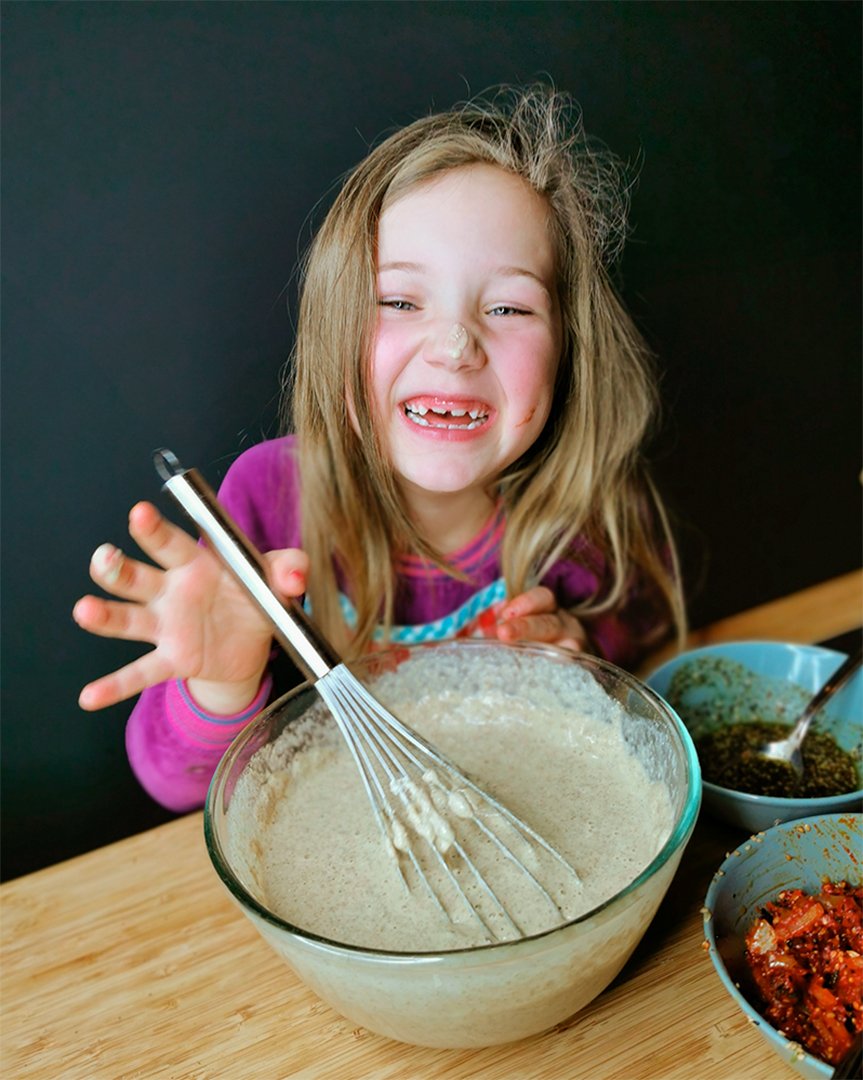 I still remember when my mother bakes her pies, her cheeks get red because of the clay furnace flames, and the sweat drops off her forehead from the heat. Nonetheless, she made sure to invite everyone passing by for a fresh pie, and no excuse to anyone to say no. How beautiful was that feeling, The large amount of dough that is enough for residents of the entire street and the desire to give and feed people even strangers. How were beautiful days before the war.
Being Syrian makes me so proud. Syria is the land of culture, hospitality, jasmine and love. Love and peace must win at the end.