It has been a long time since I have been 'home' – Syria.
In the UK, where I have lived since 2011, no matter what I do, and how busy I am with my everyday life, memories of Syria have never left my mind. I recycle my memories again and again, so I can see them differently, and rethink the person I was at that age. Physically, I have preserved all the tiny things I brought with me: my father's handwritten letter, some Syrian banknotes, empty plastic bags with Arabic texts on them, and photos of my family, friends, and my city: Homs, or as we Homsians call it: the city of black stones.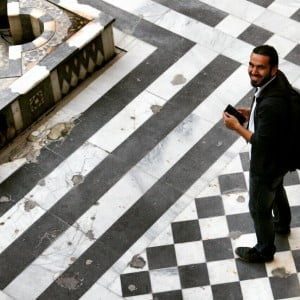 The city got its nickname because of the popularity of basalt stone, throughout history. This material has become a representation of the city, the mirror in which we view our collective identity, and our memory as citizens.
In the old city of Homs it is perhaps most visible. Churches and mosques are made of black stones, and in some cases, these stones are kept uncovered, so they are visible from the inside and the outside of the building. Black stones are also seen in the traditional Homsi houses, which usually include a courtyard open to the sky and a fountain in the centre. Their facades are often decorated with geometric patterns, using black and white stones.
Architects of the city have used black stones in contemporary buildings, including cinemas and residential blocks, but not for structural purposes as in the Old City of Homs. Indeed, the wall of the old city of Homs, which used to have seven gates, is made from black stone. Its remains, with some beautiful arches, and a mosque on its northern western corner, are still gracefully standing today. I took a photo of them in 2010, when people were praying on Friday. I cherish this simple photo. It shows ordinary people in Homs living their everyday life, peacefully enjoying their city. I wonder where are these people now? Are they alive? Have they been displaced? I hope they are safe.
In Homs, many traditional buildings have facades of alternating rows of black and white stones. This is called the Ablaq architectural style. The style is seen in other cities in Syria, such as Damascus, but using other colours instead of black.
Today, with the heavy damage to half of the neighbourhoods in Homs, and the monumental displacement of Homsians, the city of black stones has become the city of dark, and black times too.
The monuments that made us who we are, are lost and gone for ever. But it is not only the built environment that has been destroyed, but non-physical elements of our lives: the way we experienced the city, the traditions and memories we had.
But there should be hope. Wouldn't be?
After more than six years in the UK, I know what it means to be 'home'-sick. And I am Homs-sick.
Images: Amr Alomar