On Syrian television in the 1990s, it was the first time I read the name of Etab Hreib. It was written in thick blue letters at the bottom of the screen in the middle. Etab stood over her name, while the TV presenter spoke of her blue paintings that covered the walls of her living room. Our family, like any family from Deir Ezzor, rejoices greatly when the face of somebody from our hometown appears on the screen and pursues the conversation with passion. My mother asked me and my brothers to remain silent and raise the volume level of television and said: It is Etab Hreib, the artist the Euphratean artist by blood with a Damascene heart. I knew then that the heart was free and had wings and that belonging to nowhere was an advantage. Today, more than twenty years later, I am interviewing Etab as an exiled journalist in an interview with an exiled artist.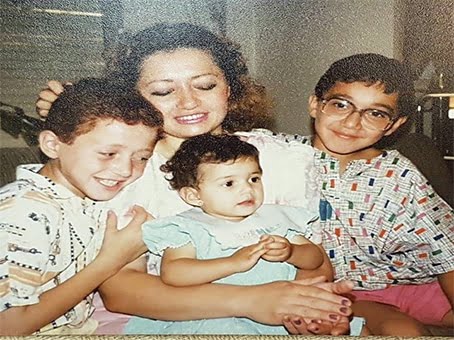 Born in the Syrian city of Deir Ezzor in 1954, Etab Hreib graduated from the Faculty of Fine Arts in Damascus in 1978. She paints in watercolors. She received a number of awards and certificates of appreciation, including the gold medal of the Mahrous Festival in Tunis in 1993 and Gold from The Chinese Ministry of Culture in 1993. She held dozens of exhibitions inside and outside Syria. Her work appears in many museums and private collections. Etab now lives in Chicago.
We will start with your name Etab, what's the story of your name?
I knew from my mother and father that my name came from their fondness of the Fayrouz' song "Stand, o Asmar". Specifically: the story of Etab (reproach in Arabic) and love. Since knowing this, I loved the song more, and I had the dream of owning a small house on a hill at the end of the road, similar to how it is described in this song. I actually ended up in a house overlooking Damascus in the Mezzeh Jabal area. I became that girl whose house is above the road. My house was my refuge and my shelter after my travels. Today, although I live in a beautiful house in Chicago, I still yearn for my home in Damascus every day.
Etab Hreib: A woman, full of color! Whoever follows your photos on Facebook gets that impression of you, is this impression correct?
Sure, I still feel like a student at the art school, and I couldn't get rid of that passion. I love life and appreciate it with all its gifts and surprises. Sometimes I succumb to its strength, but I rebel against it most of the time. I fight it with colors [paintings] and always overcome it. I am more than 60 years of age and I still believe that what I have inside me in terms of possibilities and energies I have not discovered yet and there is nothing impossible in my life.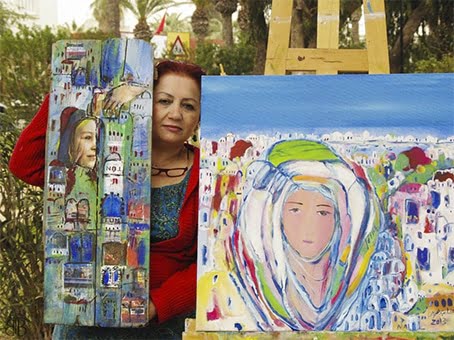 I once heard about the story of your car being sold to finance a trip to China in 1993.
Yes, I did it. I was nominated by the Association of Artists to travel to Japan that same year. I considered this the most beautiful thing that could happen to me in my career as an artist who only draws with watercolors, but I was surprised that my name was replaced with another artist who never painted with watercolors. That is why Japan called off the trip. After that incident, I decided to visit East Asia at my own expense and I only had my car at that time. I sold it and invested in a trip of a lifetime to China with my friend Hala Mahayni.
Why the trip of a lifetime?
Because I came to see myself as Etab before the China trip and other Etab after my return. I was very passionate to inspect original watercolor drawings in China. What I witnesses strengthened my relationship with watercolors and I discovered my uniqueness versus all Asian painters at the time. I made sure that I stayed true to myself in my painting style from that moment. In China, it was common practice to copy paintings and I saw little freedom of creativity in the work of Chinese artists. I realized how much I am free using colors. Upon my return to Syria, I became more confident in my style of painting style. Beyond China, I traveled to Tunisia and then traveled almost the whole world, with my paintings and watercolors, so traveling became part of my life.
And why only watercolor painting?
Watercolor is only easy on the surface. Every touch is unique and cannot be repeated. Watercolors reflect the freedom and transparency in me.
You were an inspiration to many Euphratean women, even though you didn't live there
I appreciate art and freedom and always talk about them. I spoke in the first television interview that I was divorced twice. I asked for a divorce. I experienced my life after divorce as a single mother with three sons. I deliberately talked about my personal life honestly like my art to be an inspiration to every woman who knows me. I am proud to consider my experience as a woman before being a painter.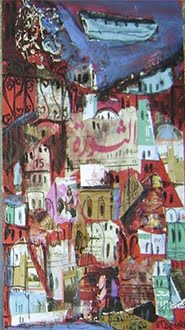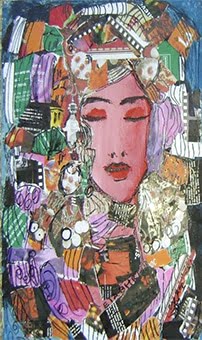 What about your experience teaching at the Teachers Institute in Damascus?
I love my teaching experience very much. It enabled me to assume the role of a role model alongside that of a painter. It was an opportunity to pass on my messages to the younger generations. Playing with colors and revealing them freely is the way of creativity. I was telling my students that those who demand freedom go out into the street without fear of bullets, so how can you be afraid of colors?
You lived in Syria in the sixties, seventies, eighties, and nineties and after the millennium, which era do you belong?
I see the sixties as undoubtedly the golden age. Our French-style house in Maarat al-Numan, my father's cultural circles and my mother's clothes and elegance. I used to weave clothes for my doll which looked similar to those of my mother's. My father got a job at the Ministry of Culture in Damascus and my family had to relocate to Damascus.
I joined the Faculty of Fine Arts in 1974. I expressed my thoughts freely and wore my clothes without any restrictions while I was at university. I made solid friendships with students that have continued to this day. But space for freedom has narrowed year after year. For example, the naked model was banned in college in the early 1980s and this I consider to be a serious artistic mistake.
Our life gets painted like a painting now and then. Can you name a few colors that represent certain events of your life?
Blue: After I got divorced the first time, I was free and my space was blue like the sky. Incidentally, it is the first color that runs out in my tray of colors.
Green: Travel. I love to travel a lot and traveling has become a spiritual requirement. One of my priorities when traveling is to go to nature and enjoy its warmth.
Red: The day I was created. Rebellion to life born with me. Red is the color of revolution and change.
Black: It's the day my son Mazen was killed. ISIS killed my son while I was here in Chicago. I received the news of this tragedy on my own. My days in black lasted a long time.
I have my son Yamen in Turkey, and my daughters Sarab and my son Ramzi are both in the United Arab Emirates.
White: My time spent with my grandchildren. I love my grandchildren and I love the innocence and purity of their love for me. Life is better with them.
How did Etab Hreib end up in Chicago?
I received a US visa on the last day of the operations of the US Embassy in Damascus in 2012. I didn't intend to stay in America. My son, Mazen, advised me to stay. I wanted to reduce my children's anxiety and to be away from what was happening in Syria. I am in Chicago today and if I go back to Syria, it will be because of visiting my son Mazen's grave. I do not know where his grave is.
How does Etab Hreib spend her day in exile?
Paint and wait behind my window with a cup of coffee and my cigarettes and watch people crossing. I watch how the weather changes in Chicago. Listen to French songs that my ears got used to in the 1970s.
A new life and a new beginning!
I started here from scratch as if I had just graduated from university. I work and paint with children, always. I launched a website to showcase and sell my business and I'm excited about the move. It wasn't easy, but as I told you before, I believe that nothing is impossible.
Mix us a color that gives us hope!
Violet. It is a mixture of blue and red. There are sadness and depth, there are shadows and light and everything in it. I replaced the black color with the violet color in my paintings. Even the shadows, I paint them in violet color.
Interview by Khaled ALESMAEL