Art and design are the foundation of Reem's world. From early childhood, she was raised on the appreciation of beauty which continued to feed her soul.
What prompted you to start recognising the power and value of Arab historical dress?
The story behind any object truly intrigues me. The conditions in which objects or artefacts flourish, and are circulated, fascinates me. I like how the power of a single dress can connect people who share parallel tastes, perspectives and stories in life. I'm interested in fashion's underlying dynamic that enables cultural exchanges and other interactions. In other words, I like the heritage of fashion.
It's through fashion that you can get inside certain cultures: their history and their cultural contribution to humanity. Fashion, just like heritage, tells us who we are, where we have been and where we are going. It's a language that narrates our story, both individual and cultural, without saying anything at all. It's a tool that can connect with global economies, gender, sexuality, ethnicity, background, social class, national identity, geography and other factors that are affected by many power relations.
What is it about the digital archive that explores the different ways heritage is understood and engaged with?
The Zay Collection is the first digital platform dedicated to this on a regional level, a platform where you can access it globally and free of charge. You can open a window into Arab culture from anywhere in the world. When you learn about a culture, you are indirectly re-shaping the misconceptions about Arab culture, and women in Arab culture in particular. Using this simple tool of dress that anyone can relate to is important. We all share this experience: we all wake up every morning and decide what we have to wear. This reflects what you want to say about yourself, but you are not really speaking.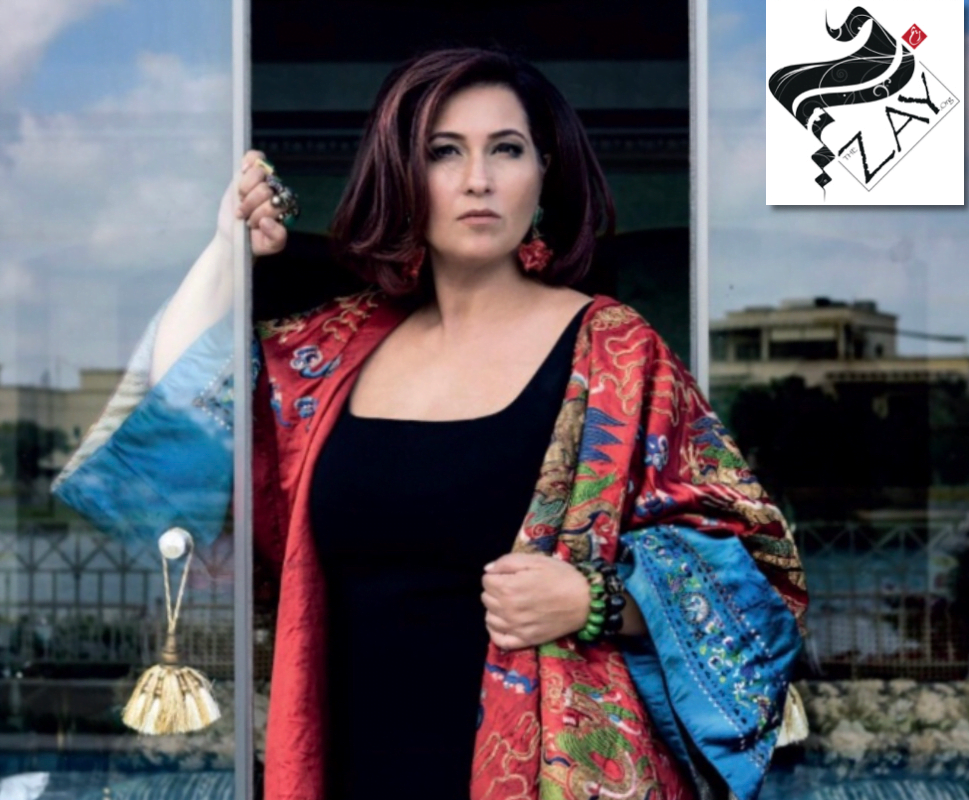 How does a Zay Collection acquisition work – do you work with the community the item is tied to?
These pieces tell the story of people from all walks of Arab life, mainly women, who leave little trace behind them. Our aim is to first recognise that this area is a rich source of heritage and stories that are more often than not quickly lost, or misconstrued, due to lack of accurate representation and documentation.
As well as this, dress is a very simple format. With art, people might start to feel overwhelmed when looking at a painting or art object. But dress is a simple tool that can be understood by many. Cultural and historical dress is a key that opens a door into a culture on multiple levels, in order for us to exchange knowledge, opinions and information. It's a tool to learn about one another. This is how we base our criteria when growing the Collection.
What kind of questions does a piece of heritage dress reveal about a local area, as well as a country, or a regional level?
It's like creating a painting, and each individual stroke has its merit. When you go into these communities, and when people write to us and say, "I have a piece of dress that I would like to send to you", sometimes this piece of clothing is coming from its original country, or it has travelled back or it has been passed on to an individual who is now living in a completely different area.
So it's about following the threads of a life story?
There is one example story that shows this layering. I was contacted by a French man who now lives in New York. He was related to a doctor who witnessed a young man about to commit suicide, in around the 1930s, but he was able to persuade him out of it. It turned out that the young man was a prince from Libya, and the father of this young man came to France and gave the doctor a cloak as a gift, or abaya, which is a common practice of bestowing honour. This cloak was made in Syria, as this was and is a country well known for its silk and weaving. This was the best known cloth at the time. This is a piece of clothing made in Syria to show off the craftsmanship of that country, but it was gifted by someone from Libya to a doctor in Europe, whose son now lives in New York. Finally, the cloak is with the Zay Collection in the UAE.
One article of clothing can touch so many different lives and people, and they are all woven into the history of that piece of clothing.
You have recently created a webinar on the relationship between Damascene architecture and dress. What is it about drawing out the connections between different mediums that helps to tell heritage stories?
The connection between dress and architecture is overlooked. There is a shared symbolism between what surrounds us and what we wear. Both influence each other. Damascene architecture is one of the oldest Islamic architectures, and this can be related to the style of dress of that city. Coming up on the 14th November is the Sustaining Legacy Symposium, which looks at the past, present and future of Arab dress. We have two online panel sessions, one focusing on the importance of Arab dress, and the second on the evolving role of contemporary brands. We are continuously trying to connect academia and the actual craft, as well as commerce, culture to sustainability. We try to find ways that we can connect these disciplines, running these webinars every few months.
What are you looking forward to with The Zay Initiative?
Despite the young age of the Initiative, we have achieved a space at the Women's Pavilion at Arab Expo 2025. This is the first to be held in an Arab world. For Draped in Heritage, we captured 20 trailblazing women from the UAE each in their field of work, but we also draped them in traditional dress from the Zay Collection. Each drape is attached to the story of the women who came before them. She carries these stories and these histories through her and with her, all the while she is photographed doing her work. We photographed an aerospace engineer, a ballerina, a doctor, a writer, an Olympic skier: all of these women have achieved something in their life but are grounded in the stories through the dress.
Audiences can view the Zay Collection and digital archive, including the blog, over on The Zay Initiative. You can also become a member, and view past webinars and stay up to date with upcoming events. If you have missed a webinar from the Zay Initiative, you can sign in to view the archive of discussions.
🌿
Maria Leonard