Four years after her debut album, Syrian Dreams, which was widely praised by critics around the world, Maya Youssef is on her way to releasing her second album, Finding Home, as an independent musician this time. Qisetna catches up with her after four days of intensive recording at the Wiltshire Music Centre.
Going Independent
"It was really amazing and intense, but I am really happy with the results even though I was almost scared to face it. It has taken on a life of its own," Youssef enthuses about the recording process. After a very successful debut album with record label Harmonia Mundi, she had decided to release on her own this time, handling everything from logistics to financing herself. While she received funding from Arts Council England and Women Make Music under PRS Foundation, she is launching a crowd-funding campaign to push her through the finish line by covering the manufacturing and PR costs.
"There is that fear in me that, 'oh my gosh, you are going to ask people to help you, to just give you money in exchange for your art,' and it's freaking me out," she says. "I had to speak to a lot of people, and I was overwhelmed by the support because everyone said yes, which is amazing and mind-boggling."
Fans can expect chamber Arabic music with unexpected layers from compositional and arrangement perspectives for which Youssef credits her co-producer, Leo Abrahams, a protégé of Brian Eno, who is regarded as a pioneer of ambient music. "[With the first album] I didn't have that collaborative process, which was very exciting and which definitely enriched my experience in so many ways," she says.
On finding home, the place of comfort, peace and healing
While her first album, Syrian Dreams, was an expression of the trauma caused by the war in Syria, Finding Home conveys more universal sentiments.
"With Syrian Dreams, it was the shock and huge loss of what was happening in Syria, knowing that I might never see my parents again and thinking that that world is gone and I didn't get the chance to say bye to it, so it was very much attached to the idea of finding home in my homeland," she says. "With this album, it's more universal. It is a reflection of my journey, it's about all of us finding home, finding that place of comfort, peace and healing, no matter how that will manifest, whether it is in a person, a journey, a loss or nature. The compositional journey is very different from the first one, and it feels much deeper. It became clear to me towards the end of the writing process, it is about finding home within myself, within my own spirituality."
The spirit of an ancient land expressed in a modern tongue
The 78-stringed qanun is a traditional instrument at the heart of the Arabic ensemble, and Youssef's training was in classical Arabic music. Yet exposure to music from around the world from a young age, thanks to her father's eclectic taste, has enabled Youssef to forge pathways into jazz, Western classical and Latin styles while remaining rooted in the classical Arabic tradition.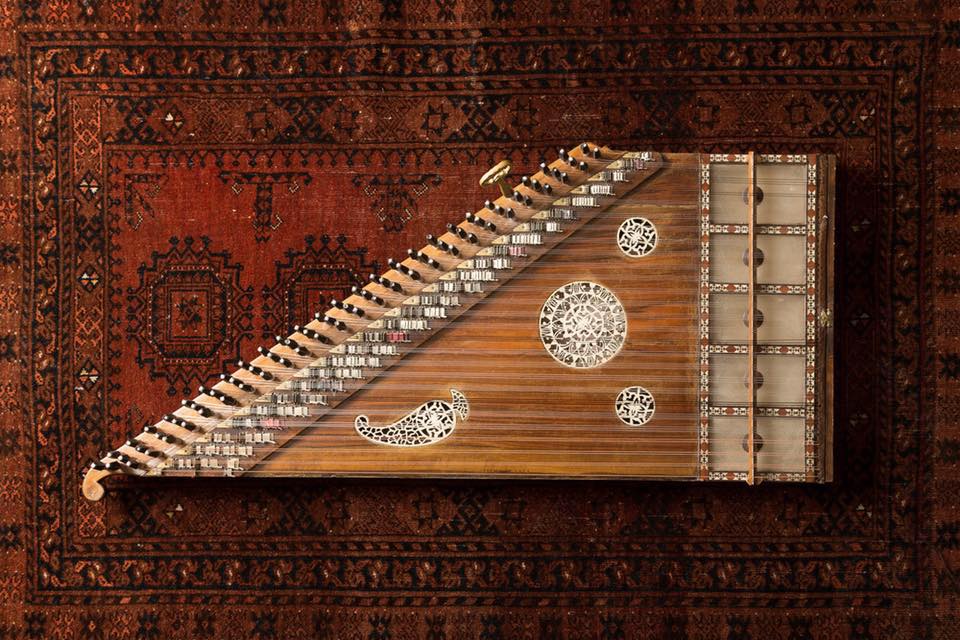 "I see myself as a tree. I am deeply rooted in this ancient tradition that goes back thousands of years, but at the same time, my branches are free to go wherever they want. In this album, I am using the spirit of my ancient land but in my own modern tongue in a way that is true to me because life is too short to try to fit into a box."
To Youssef, the readiness to surrender to various influences and inspirations, even unexpected ones, is an important aspect of her creative process. Commissioned by the British Museum, Youssef composed Soul Fever as a response to the recent exhibition, Reflections: Contemporary art of the Middle East and North Africa, coinciding with Refugees Week. In particular, she was inspired by a drawing by the artist Samira Abbassy, titled Unravelling, a portrait of a figure with names of famous composers and songs written on her dress as a pattern.
"My immediate response was 'great, I have a very easy entry into the composition.' So I went home and played sections of those famous songs, but I tried and tried, and it just didn't work. I was like, okay, I surrendered control, just listened, and the result was Soul Fever. It came when I really listened to whatever the painting was trying to tell me. I wrote the whole thing in four hours after trying for a week."
Having come to the UK in 2012 under the British government's Exceptional Talent scheme, Youssef considers herself lucky that she has been able to pursue her musical career in a safe environment, and she hopes those less fortunate can find consolation in her music. "I pray before writing music. I pray for my music to be an instrument for peace and a tool for healing."
One of her compositions in the album, Lullaby, is dedicated to those who had to flee their homes for a better life. "It is inspired by an image I've seen of a Syrian mother holding her baby with a bomb blast in the background. She is leaving everything and there are people pushing things in front of her. They are in that bubble of hope. She is blocking everything and singing to that baby as if the bomb blast and all the madness around did not exist. She is just holding on to that hope because without that, we can't survive. Hopefully, by the grace of God and the grace of earth angels, they can find their way to making a new home."
Finding Home is scheduled to be released in spring 2022, complete with a UK national tour and a two-day Syrian music festival curated by Youssef at Wiltshire Music Centre, London, which will feature concerts, talks and workshops for refugee communities.
For more information on Maya Youssef and her work