"We all try to find interesting stories and produce a remarkable, new issue. I feel like we have become a family."
Migratory Birds is a multilingual newspaper, the result of the teamwork between a group of young journalists. It's distributed every months, free of charge, as a suplement to EfSyn, a local Greek newspaper. It is an initiative of the Network for Children's Rights, and our main goal is to promote intercultural dialogue help young people who may have come to Greece seeking refuge, to exercise their basic rights and strenghten their inclusion into society. This programme was created as a result of people in refugee camps to talk to the media, as they believe their stories would not be presented as they should, says Myrto Symeonidou, coordinator of the Young Journalist group.
In April 2017 a group of young people launched the first issue, and since the team has got bigget, enriched by many people of different languages and cultures, now based in Greece. They shared a list of things that "we will never forget from publishing the twenty issues of Migratory Birds" a sort of powerful manifesto, inspiring for its honesty, and raw energy.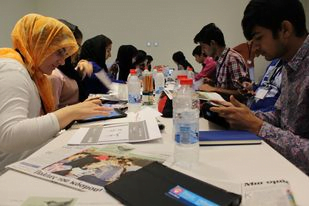 "Through this programme, young journalists have the opportunity to contact and collaborate with other young people from different countries, to improve their social skills, explore new environments, and to learn more about the city they live in", explains Myrto, "at the same time, they keep in touch with their own cultural identity, as they write the aticles in their mother tongue".
I like writing and the teamwork. We don't agree on everything of course, but there is love and solidarity"

Kim
What kind of stories you cover? Is there any specific topic?
Our newspapar covers a large number of stories, based mostly on the young journalists interests, specially around social, educational, environmental and cultural issues. You will find articles about the protection of children and human rights, personal stories with people seeking asylum and refuge in Greece, as well as current affairs. For example, Issue 16 was dedicated to climate change, and Issue 19 to children's rights. We aslo cover stories about the life of refugees in the cities they are living in, as well as include art and poetry submissions.
How many readers do you have?
Apart from being distributed along side EfSyn, you can find our newspaper in more than two hundred spots across Greece, among which are refugee camps on the mainland and in the islands, as well as shelters, other non-govermental organisations and schools. Our readers are young people, students and academics, social workers… Migratory Birds is the onlye five-language newspaper in Greece which is easuily reached by people who only speak Arabic, Urdu, or Farsi.
How many young journalists are taking part in this initiative? Can others participate in this programme as well?
Throughout the years the team has changed, due to the relocation of people (for example in cases of a family reunion) or because they grow up, so it is normal for us to see the team changing all the time. The basic core consists of 15 people and everyone can join in, teenagers, youngsters, refugees, immigrants, Greeks, aged 13-20. As long as you are someone who enjoys writing, painting, or even taking photos, you can join Migratory Birds.
Do you know the impact Migratory Birds have on people?
From time to time Migratory Birds are praised by very important people – this is something that empowers the team and keeps it motivated. For instance, the Spanish newspaper El Mundo wrote that our initiative is unique in Europe as we have given voice to over 100 children. Eva Grigoriadou, a psychologist with the Home Project, referred to us as an inspiration. And, of course, our readers and followers also show their support.
What is your main goal? How do you see things in 5 years for Migratory Birds?
The Migratory Birds hopes to give teenagers and young adults the ability to speak up and exercise their right to speak up, so that they can represent their age group on social media, for example. This is very important, as it is difficult to do this in Greece. At the same time, this programme, as an atypical form of education, focuses on helping young refugees to integrate with locals, supporting their social and educational skills. No matter how many years will pass, we want to give a platform to as many children as we can, so that through journalism they will be capable of expressing themselves and exercise their right to speak freely.
Do you want to be heard and inspire others besides Greece?
The Migratory Birds want to fly away! During the past couple of years, we have spread our feathers beyond the borders of Greece, hoping that others will follow our footsteps. Through the website everyone in the world can find our articles in 5 different languages. As a member of the European programme EFIVOS, supported by the Network for Children's Rights, our words are being spread over Spain, Italy, Cyprus, Germany and Sweden too.
🌿
Efi Karagiorgi